Goan Cafe N Resort
is situated in a peaceful serene environment, on the shores of the Morjim Beach in the North of Goa and within walking distance from the international famous Olive Ridely Tuttles Nesting sites.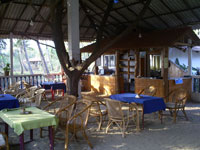 At
Goan Cafe N Resort
you can laze in the silvery sands, bask in the golden rays of the sun or just let the soothing sound of the waves wash away your worries and the gentle breeze intoxicate you and set your soul free.
From its humble beginning in 1996
Goan Café
has grown from a small tiny seed to a mature garden situated in a protected area for (Olive Ridely Tuttles Nest From Sept To Feb On Morgim Beach At The Mouth Of River Chapora In Pernem Taluka Of North Goa Still Run And Maintained By 3 Friendly Brothers Anthony, Lawrence & Paul & father who catches the fresh fish for the menu in his small boat at night, returning every morning with the catch of the day "only catch you will find at ´
Goan Café & resort´
. Gustine an illiterate man supported his wife & five children with hard work a song & prayer. As the trawlers took more & more fish from the sea the elder son Anthony thought he try his hand at selling soft drinks & fresh juices and coconut from a small café at the end of the family land, the beach of the Arabian sea.
The first European to visit stayed in the family house and fishing net store & used bucket shower pig toilet sadly no longer used. But now flush toilet & electric shower in every apartment and several of the three houses also two for the use of the customers using the restaurant & beach area.
We are specially recommended by Lonely Planted series for world travelers and also on
www.goaplaces.com